One more example of God Buddies in The Bible is that of David and Nathan. Their story reminds us of how even great men like King David, are human and struggle with sin. But we also need someone who will speak truth to us, even if it may cost us a friendship.
God used Nathan, the prophet to change the direction of David's life. Nathan knew that if he rebuked David about his affair and subsequent murder, it might cost him their friendship and possibly even his life.
Of course, the recipient needs to accept responsibility for their actions and be accountable to repent or change. All are characteristics that essential to your deepening friendship.
Biblical Background
David, the young shepherd boy who killed Goliath then enjoyed a loyal and emotionally close friendship with Jonathan, has now grown up to become the second king of Israel. David believed, as did the people of his own country, that he had earned God's favor and was blessed with military victory, wealth and power.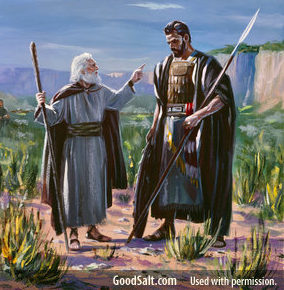 Nathan was the "Oracle" or "Prophet" in David's court. The role of an oracle was to interpret signs and tell the King what God wanted for the future. David has committed a sin and God rebuked him through the prophet, who confronted and scolded David when others did not dare.
This part of David's story begins with the biblical account of his sins with Bathsheba. King David chooses to stay home in Jerusalem while he sent the rest of his army off to fight other nations and kings. David is relaxing on his palace roof when he sees a beautiful woman bathing on her roof. He was immediately drawn to her and sent messengers to find out who she was. The messengers returned and told David was Bathsheba, the wife of Uriah the Hittite. Despite her marriage to one of David's mighty soldiers (2 Samuel 23:39), David summons Bathsheba to the palace and they sleep together. Later, Bathsheba sends word to David that she was pregnant.
David was nervous that his adultery would be found out and quickly called for Uriah to come home to spend a night, hoping he would sleep with Bathsheba and cover up that she was pregnant with David's child. However, Uriah refused to lay with his wife out of devotion to his fellow men off fighting. David was angry that his plan didn't work and sent Uriah back to fight on the frontline where he would die. After Bathsheba mourned her husband's death, she was then brought to be King David's wife.
In 2 Samuel 12, Nathan confronts David regarding his adulterous relationship with Bathsheba and the cover-up of their affair. God tells Nathan to tell David that what he did to Uriah and Bathsheba was unjust. Nathan confronts David by telling him the parable about a rich man who has many sheep and lambs but who takes the only lamb of a poor man.David was justifiably angry at the injustice (verses 5–6). Nathan asks David, "What should happen in a case like this?" Even David can see injustice of the rich man's action. David says that this rich man should have to give the poor man four sheep to pay the poor man back for what he has done. David even states that the rich man who taken the sheep from the poor man deserves to die. Nathan replies: "You are that man!" as he confronts David about his wrong-doings.
God brought judgment upon David for his sin, including the death of his and Bathsheba's first child. However, David repented was forgiven and remained king. David was so grateful that Nathan spoke the truth in love to him that David and Bathsheba later named one of their sons "Nathan" (1 Chronicles 3:5).
The GB Lessons
God Buddies are willing to risk confronting but must be gentle and without condemnation. Like Nathan was to David, you will be a blessing when you are completely honest with your GB whenever it is needed. It may be discreetly telling him when he has broccoli between his teeth, that his breath smells bad, or when his zipper is down. But it may also be speaking a hard truth that is difficult to hear.
"Faithful are the wounds of a friend, but the kisses of an enemy are deceitful".

— Proverbs 27:6
You must first develop a relationship of trust so you have earned the ability to speak truth whenever you see them not acting responsibly or making a bad decision. But remember to do so gently and without judgment, since we all sinners who need God's undeserving grace and forgiveness to change the course of our lives.
Have you given someone the leeway to confront you when it's needed?
What was the lesson you learned that you did not expect?